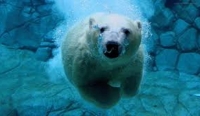 WATCH LIVESTREAM OF THE POLAR BEAR DIP HERE! Courtesy of Steve Weed Productions.
We are excitedly making plans for the 29th Annual Polar Bear Dip on Saturday, February 23, 2019 at the Bonnie Castle Resort and hope that you will want to make another appearance and thrill the crowd with your style & bravery.
This year, funds raised will be designated for critical patient care equipment that will be used in the new Emergency Department's trauma room (with construction starting in mid-2019).
It's time to begin your appeals to family, friends and business buddies to raise the minimum registration fee of $100.00 (per dipper). Of course, the object of the event is to raise as much money as we can while having fun.
You can still raise money for your Dip by using GoFundMe.com. Please visit https://www.gofundme.com/?route=charitysearch, search for River Hospital. Select River Hospital, Inc. (EIN# 810600548) and begin your campaign.
Click here to find all the necessary information on dipping! Please call 315.482.1270 with any questions.